Name of film: A Clockwork Orange
Directed by
:
Stanley
Kubrick
Written by:
Stanley
Kubrick (adaptation of Anthony Burgess's 1962 novel A
Clockwork Orange)
Starring:
Malcolm McDowell (Alex)
Running time:
136 minutes
Release date:
January 13, 1972 (United Kingdom)
'Our humble narrator'- Alexander DeLarge (Malcolm McDowell) begins the movie with his compelling narration-
"There was me that is Alex, and my three droogs, that is Pete, Georgie Boy and Dim. And we sat in the Korova Milk Bar trying to make up our rassoodocks what to do with the evening. The Korova Milk Bar sold milk plus vellocet or synthemesc or drencrom which is what we were drinking. This would sharpen you up and make you ready for a bit of the old Ultra-Violence."
Alex (Malcolm McDowell), a psychopathic young offender, leads a gang
of four thugs whom he calls his
droogs
(Russian "friend"). His principal interests and pleasures are old ultra violence, rape and Beethoven. As the narrator develops the story, the movie doesn't necessarily revolve around what we envision or foresee with already stored conventional "
masalaa
" in our head.
Brawl with rival gangs, gang rape of pretty girls/ and women (with proper masks to cover their faces) and beat up of anyone they like is their usual gang- achievement. No, they are not perfectly bonded. Alex's
droogs
are not at all satisfied over his harsh mastery of the gang. So, sometimes, Alex blows up his
droogs
to prove who the leader is and who can really be the master.
Brutal murder of a lady, followed with betrayal by his buddies, leads Alex to 14 years of imprisonment.
After 2 years of custody life, he is treated with Ludovico technique, a controversial aversion therapy, for his rehabilitation. His reformed behavior is totally against his wills- against pleasure of Beethoven. He is attacked by sickness (as a result of revulsion treatment) when he attempts to respond his intense sexual arousing, rage, violence and Beethoven. He is completely A Clockwork Orange. What he seems and does after the therapy is not that psychopathic Alex doing things but it's the treatment. He is released from the jail for he can do no harm to the society. Now, his former prays predates his weakness.
The movie does not end in such despair. There is another accident Alex goes through to his proper reconditioning- to his proper cure- for the love of classic Beethoven No. 9- for his dream of sexual pleasure and old Ultra Violence, which Alex states sarcastically as a final sentence to the movie- "I was cured, all right!"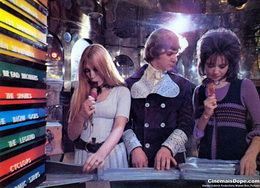 This was the second time I watched Stanley Kubrick's work. The Shining (starring Jack Nicholson), a classic of horror genre, was the first work I saw of him. It's Abhimanyu Dixit, who suggested me to watch Kubrick's works for higher class presentation and styles in movies. Kubrick's excellent photographic sense added more beauty to his works. Kubrick movies should be loved to further develop the impression that the thing so called 'Works of Arts' is beautiful when done for self not for audiences or others.
'A Clockwork Orange' begins with a stare that is so charismatic and lively.
A Clockwork Orange is a modern man- a man who has loads of conflicts of interests. He is a corrupted man whose wills are driven not by his internal thirsts but by the money minded societal values. He is a youth prompted by the societal convention not to be an actual him but rather another, who is preferred and counted. A Clockwork Orange is a bound of time; a bound of family; and, a bound of stereotype.
April 21, 2010 (Wednesday) …. 10 pm
KUBH, Dhulikhel
***********